Halloween is one of the most popular holidays in the US, but It happens that advertising agencies or brands forgot to take advantage of this holiday and instead focus on Thanksgiving.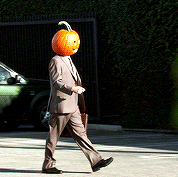 Halloween marketing is a big industry. 100% a Commercial tradition from candy to pumpkins, costumes and more…This year, the US alone is predicted to spend $9.1 billion in Halloween expenditures.
But, Halloween is more than that, it is truly a consumer holiday that allows people to express themselves, be creative and festively celebrate.
We can help you BOOst your holiday marketing, with some ideas you can use to start your business's HALLOWEEN season.
Create a Branded Spooky Video A few years ago, LG wanted to showcase their new "lifelike" IPS monitors. To show how realistic their displayed images could be, the company installed nine monitors into an elevator that played a video of an elevator floor breaking after anyone stepped in.
Add Halloween to Your Branding
Incorporate popular Halloween symbols into your branding. Whether its simple jack o lanterns in your signage or logos for Halloween week, or having fun with pop culture references that are scary.
Create Interactive Halloween Promotions
Add Hashtags for your products
Create some banners showing your discounts on your website
———–
And to finish look at these video related to #Hispanic Halloween!
Halloween is back and all the killers are coming out! But they are not match for a Hispanic mom and her chancla!
This is so true. We found out this hilarious video that pretty much sums up how a Hispanic mom reacts most of the times.
You have time to start planning and scheduling your Halloween campaign as soon as possible to have fun and connect with your audience.
Get some Halloween marketing touch to your brand! Vaquero Advertising is YOUR agency, we BOOst your digital! I need help Vaquero!